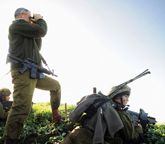 Lt. Gen. Benny Gantz on the Golan
Photo credit: Ashernet Israel could soon face a heavy burden of powerful and effective weapons, if the crisis in Syria crosses the border.
The stark warning came from IAF (Israeli Air Force) Commander Major General Amir Eshel, when he spoke at a conference hosted by the Fisher Institute of National Security.
He referred to the wars within a war that continually flare up. "A surprise war can come about through many scenarios at present," the general warned. He said isolated incidents in the Syrian conflict "can escalate very quickly." The general specifically referred to the S-300 missiles obtained from Russia.
"The Assad regime has invested a lot in order to attain the best aerial defense capabilities that it could buy," he said. "We are talking about weapons from a completely different generation, nothing like what was there before."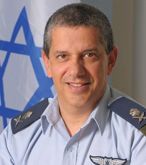 Maj. Gen. Amir Eshel
Photo credit: www.wikipedia.org/ flickr/ IDF "From the little money he has," Maj. Gen. Eshel explained, "Assad has invested billions in buying the best weapons systems Russia can offer, including the S-300, which is en-route to Syria. And he is not the only one; everybody is busy acquiring such capabilities."
He warned Israel's defense budget would be a factor in fighting against the new weaponry. "There is no system that does not have a solution," he said. "The question is only—at what cost?"
With the arrival of the new missiles, he believes Bashar Al-Assad, the Syrian President, will gain greater belligerence. "Any country that is given the wonder system—its name doesn't matter—that will make it feel that it is protected, will allow itself to do things that it would not otherwise do, and for that reason it has strategic importance beyond the operational importance."
"In order to unleash the IAF's intense firepower, aerial supremacy must be attained," he said. "Should Syria collapse tomorrow, we may find ourselves very quickly with this huge weapons arsenal scattering and facing Israel. If, in the Second Lebanon War, we used only part of our abilities, in the next war we will have to give 100 percent, so that the operation will be fast and very powerful."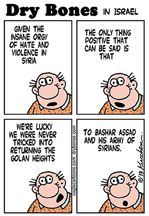 www.drybones.com
Source: Ron Ross, Bridges for Peace