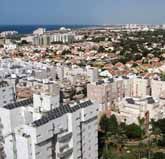 Skyline of Ashkelon A Qassam rocket fired from northern Gaza exploded on the outskirts of Sderot Tuesday [October 16] night. No injuries or damage were reported. The Color Red alert sounded across the western Negev prior to the explosion. Security forces are canvassing the area for the projectile.
Shortly afterwards, Palestinian sources reported that Israel Air Force [IAF] helicopters struck a Hamas' Izz al-Din al-Qassam Brigades base in northern Gaza Strip. No injuries were reported.
Earlier Tuesday, a Qassam rocket fired from Gaza exploded in a yard of private residence in the Hof Ashkelon Regional Council. Two people suffered shock. The Home Front Command issued a regional directive for the Gaza vicinity communities, urging residents to remain close to shelters.
On Sunday, the IAF struck east of Deir al-Balah, in central Gaza, targeting a rocket cell. Two people were killed and two others were wounded. The operatives apparently belonged to the Mujahideen Shura Council, the Salafi organization whose leader was killed by the Israel Defense Forces [IDF] on Saturday.
Source: (By Neri Brenner, Ynetnews, October 17, 2012)
Posted 3 years ago, on Wednesday, Oct 17, 2012 at 11:10am