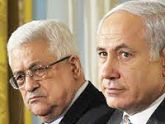 Mahmoud Abbas, Palestinian Authority and Israeli Prime Minister Benjamin Netanyahu Israeli Prime Minister Binyamin Netanyahu has repeated his demand that the Palestinians recognize Israel as a Jewish state. Speaking to the Saban Forum on the Brookings Institute via video link, Netanyahu said Israel will insist on "iron-clad security arrangements" as part of any agreement that could come out of the current Israeli-Palestinian peace talks being spearheaded by US Secretary of State John Kerry.
Netanyahu spoke a day after President Obama told the same group that a peace framework could be only weeks away. Netanyahu said that a Palestinian recognition of Israel as a Jewish state is a "minimal requirement for peace."
"It's about one thing: the persistent refusal to accept the Jewish state in any border," Netanyahu said. "The question shouldn't be, why does Israel make this demand? The question is, why do the Palestinians consistently refuse to accept it?" Netanyahu also said he is ready for a "historic compromise that ends the conflict between us once and for all." At the same time he said there can be no peace if Iran obtains nuclear weapons.
Palestinian officials say they have already recognized Israel and that it is up to Israel to define what kind of state it wishes to be. They say a Palestinian recognition of Israel as a "Jewish state" means that four million Palestinian refugees, the descendants of those who both fled and were forced to leave Israel in 1948, will not be able to return to Israel. They also rejected the latest proposals from Secretary Kerry, saying that an Israeli presence in the Jordan Valley (along the border between the West Bank [Judea and Samaria] and Jordan) is a continuation of the occupation and is unacceptable.
Source: (By The Media Line, December 10, 2013)
Photo Credit: The Media Line
Posted 2 years ago, on Tuesday, Dec 10, 2013 at 12:12pm